I have been organising my resources for three final course assignments for the MSc. I have outgrown the ring binders I was using to organise things, and finding I want to lay things out more. A large work surface is my answer. I like to have folders and papers in a way I can rapidly access them, look up notes I have written on them, and put them back quickly in a tidy place. A BIG table is the answer. So as I start to prepare notes and outlines of what I might cover in my essays and assignments I have cleared the decks on a whole table to help in this process.
I can see that this study or work pattern reoccurs in much of the work I do, projects I engage in, and assignments I have. Whether the table is real or metaphorical I like to lay out the resources and have them to hand. I like to feel I can get to them and the notes or markings I make on them. I like to make lists and notes and have them clearly to hand or organised into work folders for the same reason.
I had a travel period during the last week, but had chance to take with me readings for my courses. Lacking broadband and access to an environment where blogging was reasonably well supported, I found I was making more and more notes. Its always funny that a collection of "to do" notes like this always seems to take longer to process afterwards than if you just handle them as you go along. It does make it clear how much time is spent on individual blog entries, or contributions to discussion forums. Something that is not so obvious in a normal working day… until you get home and wonder what you did all day 🙂
The work on using a wiki for a class exercise in IDEL11 in the last two weeks has also been interesting. I see this as a bit like the use of Twitter earlier in the course, where we tried to use it for a range of functions, and tried not to use the discussion forum so much. Many of us were pleased to return to a more threaded style of discussion and archived/searchable content. I feel a wiki has some specific uses for community contributed and edited material, but is not suitable for all the functions we are trying to use it for in this exercise. But its useful experience.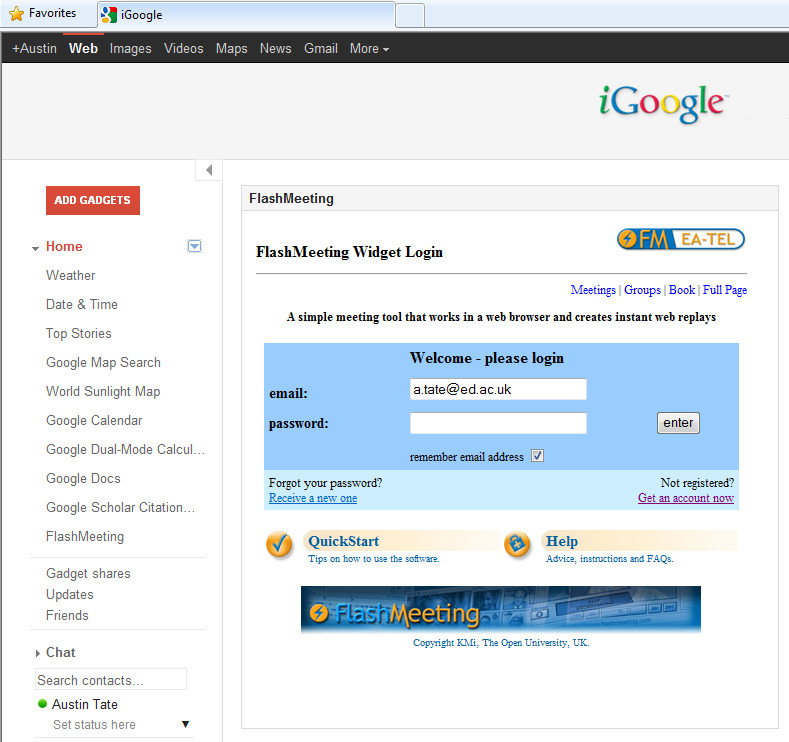 I followed up on some suggestions by Jen Ross on learning environments research that had generated widgets that could be pulled into PLEs such as an iGoogle framework, or any web site/page that allowed for embedded frames and widgets. One such site was the Responsive Open Learning Environments (ROLE) at http://www.role-project.eu/. I followed an OU course that introduced ROLE and how to use widgets in a PLE. Following the course practical, I added the "FlashMeeting (FM)" video conference support widget from the ROLE project widget store at http://www.role-widgetstore.eu/ which turned out to be a web browser based conference tool I had used before. I still had the Open University login from the work with them on the Advanced Knowledge Technologies (AKT) and CoAKTinG projects. My recordings of the meetings held then were still in place.
I started to check through Blog entries with a view to ensuring that I had appropriate coverage of my work on PLEs and VLEs for the presentation due in three weeks or so. I found the Search function on the blog is rather poor at finding entries in the blog postings. It seems only to search categories and tags used to label posts, and not look at the full text of the postings, or even the titles. I initially could not find a posting on "PebblePad" for example, which was there when I scanned all my blog posts… which is a poor way to have to find things. I have realised that some of the entries I would like in my presentation are only in the IDEL11 WebCT discussion Forum. So am bringing these and the related screen shots over to the Blog. The separation of all this content into many walled gardens is not really very good. A personal learning environment approach that builds all content in self managed areas, and then lets you combine and use these in mashups as you wish would be better approach.
I have experimented with aggregating all my blogging on HolyRood Park (IDEL11) and the EDEDC WordPress blogs into the Moodle Blog on our experimental site, as that allows such external blog feeds to be aggregated. I have also started to archive the complete set of blog entries at each month end on Holyrood Park and EDC11 WordPress into my personal learning environment at http://atate.org/space/ as a preservation mechanism.