I will give a presentation on my MSc dissertation work to the MSc in e-Learning Dissertation Festival on 1st August 2012 at 4pm BST. This will take place on the Vue South region in Second Life.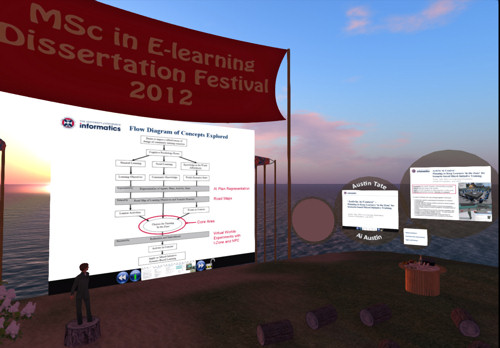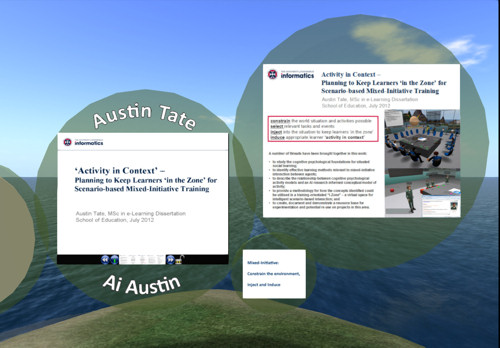 The thesis is titled "Activity in Context – Planning to Keep Learners 'in the Zone' for Scenario-based Mixed-Initiative Training".
A number of threads have been brought together in this work:
to study the cognitive psychological foundations for situated social learning;
to identify effective learning methods relevant to mixed-initiative interaction between agents;
to describe the relationship between cognitive psychological activity models and an AI research-informed conceptual model of activity;
to provide a methodology for how the concepts identified could be utilised in a training-orientated "I-Zone" – a virtual space for intelligent scenario-based interaction; and
to create, document and demonstrate a resource base for experimentation and potential re-use on projects in this area.
The core message can be summarised as:
Mixed-Initiative:
Constrain the environment,
Inject and Induce
The dissertation is due to be completed by the end of August 2012. More details of the project, access to the dissertation once complete, and various resources related to the work are at http://atate.org/mscel/i-zone/.